Connecting Canadians with broadband communications innovation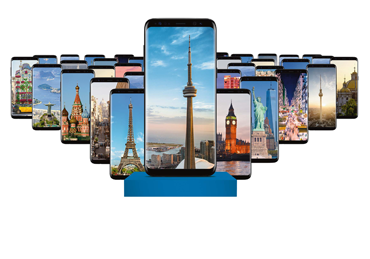 Canada's largest communications company, BCE leads the industry in providing world-class broadband communications services to consumers and business customers across the country.
Through the Bell brand and other respected Canadian names, BCE offers residential communications services including fibre-based Fibe TV and Fibe Internet, Connected Home services and home phone in 7 provinces; national wireless services with Bell LTE, Canada's Best National Network; and an unparalleled range of business communications services across the country, including data hosting and cloud computing with the country's largest network of data centres. We also operate the most extensive network of retail outlets in the country, including national consumer electronics retailer The Source.
BCE is rapidly expanding Canada's broadband fibre and wireless network infrastructure with annual capital investments surpassing $4 billion. At the end of 2017, Bell's fibre footprint reached a total of approximately 9.2 million locations – including direct fibre to the premises (FTTP) capability for more than 3.7 million homes and businesses – and LTE wireless coverage for 99% of the Canadian population.
Bell Media is Canada's premier multimedia company with leading assets in television, radio, out of home and digital media, including #1 television network CTV, the most-watched specialty channels including TSN, and Canada's premium streaming service, CraveTV.
BCE is a significant investor in Canada's iconic sports and entertainment institutions, including Maple Leaf Sports & Entertainment and the Montreal Canadiens.
Bell Let's Talk is the largest-ever corporate initiative supporting Canadian mental health. Launched in 2010, Bell Let's Talk promotes awareness and fights the stigma around mental illness through campaigns like the annual Bell Let's Talk Day and provides significant funding of care and access programs, research and workplace mental health initiatives.