6 Strategic Imperatives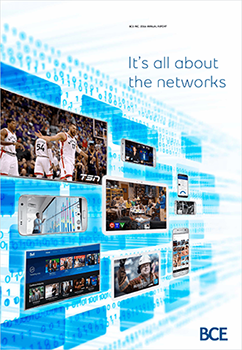 We have one goal: To be recognized by customers as Canada's leading communications company.
Bell continued to build on our position as Canada's broadband communications leader in 2016. We are investing in the most advanced networks and service innovations to lead in the marketplace and ensure Canada's competitiveness in a global digital economy, while delivering consistent dividend growth to you, the shareholders who have invested in Bell's broadband strategy.
Each day and around the clock, the Bell team works to deliver world-class network performance, exclusive new products and an enhanced service experience to Canadians in every province and territory. In a highly competitive and fast changing communications sector, Bell continues to set the pace through our dedication to a clear goal – for Bell to be recognized as Canada's leading communications company.
To achieve our goal, Bell executes a strategy focused on delivering the best wireless, TV, Internet and media growth services in the most timely and efficient manner possible, an approach framed by our 6 Strategic Imperatives:
Ours is a strategy that reflects both the challenges of our dynamic industry and the clear opportunities for innovation and growth in Canadian communications.  And the Bell team is delivering.
| | |
| --- | --- |
| | Focused on achieving best in class operating efficiencies, Bell puts a high priority on controlling costs in order to enhance our ability to invest in growth-generating infrastructure and innovation, and maximize value to our customers in a competitive marketplace. |
With a close eye on any discretionary spending, we minimize business travel whenever possible by employing the same teleconferencing and video conferencing productivity tools we offer to other companies. It's a strategy that helps improve productivity as team members reduce time on the road between Bell's many locations across the country and gain time in the office and at home.
In 2016, we continued to find savings from the integration of Bell Aliant and from adjusting our workforce as our business evolves, expanding in high-growth broadband services and reducing in declining traditional lines of business. Our wireline segment reduced costs by 2.7% in 2016, supporting the second straight year of growth in adjusted EBITDA and continued improvement in Bell's North American-leading wireline EBITDA margin. Customer operations also delivered significant productivity savings.
By investing heavily in online and mobile customer self-serve options, we have reduced higher-cost calls to our service centres significantly, by more than 4 million in 2016. We have also invested in productivity technology for our installation and service technicians, enabling significant gains in their ability to get the job done right on the first visit – cutting truck rolls by 100,000 in 2016 while achieving record customer satisfaction scores. The new Appointment Manager tool has reduced the number of times our technicians find no one home at the appointed time by 27%.
In 2016 we significantly reduced our cost of borrowing, obtaining the lowest ever financing rate on MTN debentures that will be used to repay debt and fund investments.
Everyone at Bell is involved in driving a more competitive cost structure at our company, reducing waste and expenses while maximizing productivity and strategic investment. It's a critical imperative as Bell leads the way in investing in Canada's broadband communications future.
To learn more, refer to BCE's 2016 Annual Report.
CORPORATE RESPONSIBILITY
Bell's corporate responsibility focus considers the community, environmental and broad economic impact of all our business operations. We work to safeguard privacy, foster a diverse workplace and ensure environmental sustainability, participating in respected Canadian and international bodies that benchmark our performance against peer companies here and around the world.
This includes community investment leadership with Bell Let's Talk and other initiatives such as United Way Centraide and the Canadian Centre for Child Protection. Our employees and retirees also contributed $2.2 million in charitable gifts through the Bell Employee Giving Program and more than 336,000 hours of personal volunteer time.
Bell was again recognized as Canada's top communications company in corporate sustainability and environmental performance in Newsweek's 2016 international ranking of the world's Top Green Companies.
Bell was named one of the Top 50 Socially Responsible Corporations by Maclean's and L'Actualité, and one of the Best 50 Corporate Citizens in Canada by Corporate Knights. Workforce diversity was a key factor in Bell being recognized as one of Canada's Top 100 Employers in 2016.
To learn more about these initiatives, please see the Bell CorporateResponsibility Report at BCE.ca.