6 Strategic Imperatives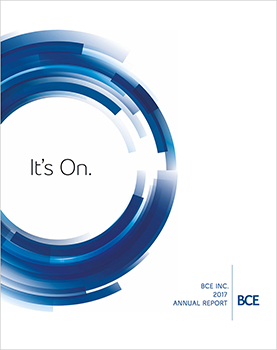 It's all about leadership.
Bell's strategy is to lead the Canadian communications industry in the scale and performance of broadband networks, in developing innovative, compelling services and content, and in making strategic acquisitions to capture emerging opportunities.
Building on our leadership position in broadband communications services, we generated historic growth in 2017. Once again, we invested more than any competitor in the most advanced networks and service innovations to lead in the marketplace and ensure Canada's competitiveness in a global digital economy, while creating consistent dividend growth forthe shareholders who have invested in Bell's broadband strategy.
Each day and around the clock, the Bell team works to deliver world-class network performance, exclusive new products and an enhanced service experience to Canadians in every province and territory. In the highly competitive and fast changing communications sector, Bell continues to set the pace through our dedication to one clear goal – for Bell to be recognized as Canada's leading communications company.
The best wireless, TV, Internet and media services continue to account for most of Bell's growth. But the actions taken in each and every line of Bell's business are all framed by our 6 Strategic Imperatives:
This strategy reflects both the challenges of our dynamic industry and the clear opportunities for innovation and growth in Canadian communications. And the Bell team is delivering.
| | |
| --- | --- |
| | Bell leveraged the speed and quality of Canada's Best National Network, the latest smartphones and other mobile devices, enhanced customer service and unmatched retail distribution to lead the industry in a year marked by significant wireless growth and intense marketplace competition. |
Bell's dynamic LTE network continues to drive increased wireless customer satisfaction and reduced churn, accelerating usage and strong financial performance as customers take full advantage of our national 4G LTE network's leading combination of speed, quality, reliability and coverage. By the end of 2017, Bell reached 99% of the Canadian population with LTE. Ultimately, Bell gained the highest number of new postpaid subscribers in the Canadian wireless industry and led all national carriers in growing service revenue, adjusted EBITDA and average revenue per user in 2017.
Network quality drives usage
Bell Mobility and Virgin Mobile Canada customers continued to increase their mobile usage, increasing data traffic on our superior LTE network by 58% compared to 2016. By the end of 2017, 88% of our postpaid wireless subscribers were using LTE, up from 81% the year before. LTE network technology enabled Bell to introduce a range of North American first speed upgrades, including the first deployment of Gigabit-plus speeds in Mississauga, Ontario. We're ready for Gigabit capable smartphones that will appear in the market later in 2018, including the recently announced Sony Xperia XZ2.
We continued to refresh our device line-up with 40 new devices introduced throughout the year, including must-haves like Samsung's Galaxy Note8, Google's Pixel 2 and Pixel 2 XL, Apple's iPhone 8 and 8 Plus, and the 10th anniversary iPhone X. Our leadership inVoLTE technology enabled Bell to be the only Canadian carrier ready to support the cellular capabilities of the Apple Watch Series 3 at launch.
Introducing Lucky Mobile
With budget-conscious Canadians looking for a better prepaid service, Bell launched Lucky Mobile in December. Available initially to consumers in Ontario, Alberta and British Columbia and now in Manitoba. Lucky Mobile offers monthly plans starting at just $20 for unlimited local calling and service in 17 zones covering most major cities across the country, including data access at 3G-equivalent speeds. In 2018, Lucky Mobile will introduce an app that enables talk and text over Wi-Fi.
As the Canadian leader in the Internet of Things (IoT) sector, Bell is building the wireless infrastructure and partnerships to take advantage of the IoT opportunity.
We partnered with Hyundai AutoEver Telematics America to provide multiple telematics, safety and security and infotainment services for the latest Hyundai and Kia vehicles on the Bell network.
Announcing the upcoming launch of our LTE-M network to support IoT devices with low-power, wide-area network capabilities, we piloted the technology with our network and IoT development partners Huawei and BeWhere Technologies at the Henry of Pelham vineyard to help improve planning and sustainability programs.
Bell MTS also launched the Innovations in Agriculture program at the University of Manitoba, providing students with opportunities to develop innovative IoT technologies for application in agriculture and food science.
Federal government mobile win
That kind of innovation led to major contract wins throughout the year, including a contract with the Government of Canada to provide mobile data, voice and text service and more than 200,000 mobile devices for employees across 100 federal departments and agencies.
To learn more, refer to BCE's 2017 Annual Report.