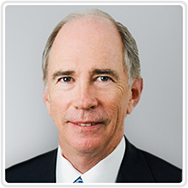 Barry K. Allen
Florida, United States
Barry K. Allen is an Operating Partner of Providence Equity Partners LLC (a private equity firm focused on media, entertainment, communications and information investments).
Prior to joining Providence in 2007, he was Executive Vice-President of Operations of Qwest Communications International (a telecommunications company), responsible for the company's network and information technology operations.
In addition, since 2000, Mr. Allen has served as President of Allen Enterprises, LLC, a private equity investment and management company he founded. Mr. Allen holds a Bachelor of Arts degree from the University of Kentucky and an M.B.A. from Boston University.
Mr. Allen is a director of BCE and Bell Canada since May 2009. He is also the Chair of the Corporate Governance Committee and a member of the Management Resources and Compensation Committee.
Mr. Allen is also a director of Fiduciary Management, Inc. and Lead Director of CDW Corporation.
Back to Board members