Economy
GRI 203-1
Through industry-leading investments in network infrastructure and services that advance how Canadians connect with each other and the world, Bell is a driving force in Canada's economy. Our all-fibre builds, rural Wireless Home Internet deployments and 5G wireless rollouts are critical drivers of immediate benefits. At the same time, our investments in R&D and innovative technologies are providing the foundations for future growth as Canada continues transitioning to an increasingly dynamic digital economy.
Fibre rollouts
Fibre networks offer long-term benefits to consumers and businesses, providing access to reliable high‑speed broadband that can meet their future needs as demand continues to grow. These networks are a key part of Canada's 21st century infrastructure and a fundamental building block in the transition from a resource- and manufacturing-based economy to a world‑leading digital and knowledge economy.
By the end of 2020, Bell increased our all-fibre footprint to reach approximately 5.6 million home and business locations in Atlantic Canada, Québec, Ontario and Manitoba. We also continued to focus on expanding our all-fibre footprint on the Island of Montréal and in the Greater Toronto Area (GTA) and launched major new builds to provide direct fibre connections to 200,000 homes and businesses in Hamilton, Ontario, and approximately 275,000 homes and businesses in Winnipeg, Manitoba. Bell also continues to work with federal and provincial governments on projects that provide broadband – and in some cases, all-fibre connections – to underserved rural communities. Looking ahead, all-fibre deployments are expected to increase as a direct result of Bell's accelerated capital investment plan announced in 2021.
World-leading wireless services
Bell continues delivering wireless technology that is among the most advanced in the world. With LTE wireless network connections available to 99% of the national population, Bell 5G reached 26% of Canadians at the end of 2020.
Delivering high-capacity and near instant connectivity, 5G is expected to have an annual Gross Domestic Product (GDP) impact in Canada of $40 billion by 2026, with nearly 250,000 permanent full‑time equivalent jobs added to the economy, and nearly 150,000 short‑term jobs created in construction and engineering as Canada's 5G networks are built.
Footnote 1: Accenture, Fuel for innovation: Canada's Path in the Race to 5G, 2018
Essential to Canada's economic competitiveness going forward, 5G technology also significantly reduces Canada's carbon footprint along the way. It is estimated that energy used by a general 5G cell site will only be 8‑15% of a current 4G cell site. Given this substantially greater energy efficiency, it is predicted that even with a thousand-fold increase in traffic over the next 10 years the full network's energy consumption will be half of current levels while at the same time enabling improved carbon reduction and reduced energy consumption in many industries, including transportation, manufacturing, mining, forestry and critical building systems.Customer section.
Footnote 2: Accenture, Accelerating 5G in Canada: The role of 5G in the Fight Against Climate Change. 2020 For more information, refer to the
Looking ahead, Bell currently expects our 5G network will reach approximately 70% of Canadians by the end of 2021 as a direct result of our accelerated capital investment plan announced in 2021.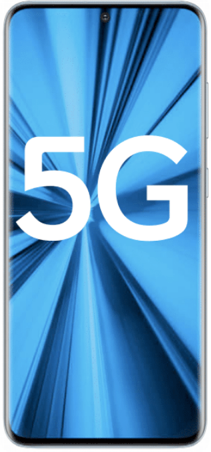 Looking ahead, Bell currently expects our 5G network will reach approximately 70% of Canadians by the end of 2021 as a direct result of our accelerated capital investment plan announced in 2021.
Wireless Home Internet (WHI)
All-fibre networks are not feasible for every community. That's why Bell is delivering high‑quality broadband to smaller towns and rural locations with our innovative WHI service. Using 5G-capable technology, WHI is a fixed wireless solution that delivers high‑speed Internet services with speeds many times faster than average speeds currently available in rural areas.
By the end of 2020, Bell had deployed the service to almost 50% of the 1 million locations targeted throughout Ontario, Québec, Atlantic Canada and Manitoba. Looking ahead, WHI deployments are expected to increase as a direct result of Bell's accelerated capital investment plan announced in 2021.
Network investments are key economic drivers
As the speed of Canada's digital transformation increased at an unexpected pace in 2020 due to COVID-19 – with e-commerce, remote work and online learning escalating to unforeseen levels – the positive impacts of access to advanced digital connectivity have been made abundantly clear. Also clear is the positive impact additional investment in our communications infrastructure will have on Canada's post-pandemic economic recovery and future prosperity.
The quality, speed and reliability of Canada's networks and services are the direct result of many years of private investment by competitive facilities-based network competitors, including Bell. In 2019, Canada's facilities-based broadband and wireless competitors contributed an estimated $74.5 billion in GDP to the Canadian economy, supporting an estimated 638,000 jobs.
Footnote 3: Accenture, Investing in Canada's Infrastructure: The Economic Impact of Wireless/Wireline Broadband and the Post-COVID Recovery, 2020 Looking ahead, it is expected that the value chain driven by this investment will contribute approximately $199 billion to $235 billion in direct, indirect and induced GDP to the Canadian economy over the next 5 years. Footnote 4: Ibid
In 2020, Bell's capital expenditures grew to $4.2 billion (up from approximately $4 billion in 2019) as we increased investment in network capacity and digital platforms in response to unprecedented usage demands during COVID-19. Bell also launched major fibre builds in Hamilton, Ontario, and Winnipeg, Manitoba. The $400 million investment in Winnipeg to connect approximately 275,000 homes and commercial locations with direct fibre is expected to create more than 1,100 direct and indirect jobs and generate an additional $900 million in new economic activity. Bell also sped up deployment and upgrades to Wireless Home Internet in rural areas in response to COVID-19, and launched Canada's fastest 5G service.
In 2021, Bell announced it would accelerate investment in fibre, Wireless Home Internet and 5G by an additional $1.5 billion to $1.7 billion over 2 years. This additional investment – which brings total capital spending to the highest level in the company's 141-year history – is expected to generate an estimated $3 billion in new economic activity and create approximately 5,800 additional direct and indirect Canadian jobs.
These Bell investments also provide an additional boost to Canada's increasingly important Information, Communications and Technology (ICT) sector. The economic and employment impacts of COVID-19 have been much less severe in ICT than in other sectors of the economy, and ongoing investments in communications infrastructure will support growth in key innovation areas considered key drivers of Canada's digital economy, including cleantech, advanced manufacturing, agri-food, interactive digital media, clean resources and health and biotech.
Footnote 5: Ivus, Maryna; Kotak, Akshay; McLaughlin, Ryan. The Digital-Led New Normal: Revised Labour Market Outlook for 2022. Information and Communications Technology Council (August 2020). Ottawa, Canada
Connecting northern communities
Bell continues to invest in Canada's North, helping address the unique challenges faced by small communities that can be very challenging to connect due to difficult terrain and remoteness.

In 2020, our subsidiary Northwestel began offering unlimited Internet for the first time in seven northern communities and started deployments of fibre connections in the communities of Hay River and Inuvik in the Northwest Territories.

A Northwestel application to the CRTC Broadband Fund was also approved in 2020 and, as a result, satellite and broadband fibre projects in Yukon and the Northwest Territories will enable download speeds of up to 50 Mbps and upload speeds of up to 10 Mbps to more than 10,000 homes in the region.
These initiatives also follow completion in 2019 of a joint initiative involving Bell, Northwestel, Telesat, the Government of Canada and the Nunavut government that made mobile LTE wireless broadband service available to all 25 communities in Nunavut, Canada's northernmost territory.
Creating the jobs of the future
Investments by facilities-based network providers like Bell boost the Canadian economy and create jobs. Delivering advanced networks and services demands 21st century skills, and Bell's more than 50,000 team members – including engineers, software developers, artificial intelligence (AI) and network security experts, installers, technicians and customer support representatives – are leading the way.
Overall, Canada's digital economy employed approximately 1.6 million ICT workers at the end of 2020, representing an increase of 10% year over year, and total jobs in Canada's digital economy exceeded 2 million.
Footnote 6: ICTC, Digital Labour Market Monthly Snapshot, January 2021 Although some digital businesses have suffered losses and face challenges as a result of COVID-19, most have been able to quickly adjust to new operational requirements.
In 2021, new fibre deployments, greater broadband availability and continued rollouts of 5G mobile connections and innovative IoT applications are poised to take digital services and jobs in Canada even further.
Bell R&D helps drive innovation
Bell's leadership in the deployment of new and innovative networks and services is a direct result of our strong commitment to research and development. Our investments in R&D enable us to continue providing our customers with products and services that are among the most advanced in the world while simultaneously adopting new technologies that better support our own operations and meet the needs of our customers.
Bell invests more than $500 million in R&D each year ($532 million in 2019
Footnote 7: Research InfoSource, Top 100 Corporate R&D Spenders (2019); R&D research data traditionally lags the reporting period by one year), more than any other communications service provider in Canada. In 2020, this investment supported innovations like the launch of Bell's 5G network, Canada's fastest, as well as improvements to our Wireless Home Internet service. Our R&D also helps us develop new services, including 5G Augmented Reality (AR) applications, as well as innovative systems and processes that improve the customer experience by enhancing online and self-serve tools and leveraging Artificial Intelligence (AI) to make it easier to do business with Bell.
Successful R&D also requires collaboration, and we partner with researchers, academics and others to accelerate the emergence of a strong Canadian digital ecosystem. In 2020, Bell and Western University in London, Ontario, launched an initiative to develop new 5G standards and applications, including a dedicated research and training facility and campus-wide 5G network that serves as a "living lab" for new consumer and business 5G services. In addition, Bell is partnering with the Université de Sherbrooke, providing 5G communications to support technology projects in a number of sectors, including IoT, innovative manufacturing and smart energy management. We are also collaborating with the University of New Brunswick on the new Bell Research Intensive Cyber Knowledge Studies (BRICKS) program to help students develop knowledge and skills needed to meet growing worldwide demand for cyber security talent, and the Bell MTS Innovations in Agriculture program at the University of Manitoba also continues to support the development of new IoT technologies for Canada's important agri-food sector.
Bell also works with industry partners on developing new digital solutions across all aspects of our operations. This includes collaborating with SCALE AI, a Montréal-based technology consortium and innovation hub, on an initiative that would speed up installation time for new fibre connections for business customers by accelerating steps in the supply chain using AI.
Investing in Canada's media industry
Bell's role in generating economic opportunities for Canada's important media sector goes beyond providing access to advanced broadband networks and innovative television, radio, and online platforms like Bell Fibe TV, Crave, Alt TV and the iHeartRadio app.
While the media industry overall was impacted by COVID‑19‑related production disruptions and delays, Bell Media continued to play an important role in producing high‑quality Canadian content, including top‑rated news, documentaries, scripted content and sports. For the 2019‑2020 broadcast year, Bell Media invested $731 million in original English- and French-language Canadian content, providing work for Canadian actors, on-air personalities, technicians, showrunners, directors, artists, technicians, crafts personnel, and many other specialists and suppliers across the media industry.
Bell Media is also generating important growth-through-export opportunities for in-house and independently-produced Canadian content. High-quality homegrown hits like Jann, Letterkenny, Cardinal, Holmes Family Effect and Disasters at Sea are finding audiences within Canada and around the world. In fact, CTV's popular original series Transplant became the most-watched scripted series (comedy or drama) on U.S. broadcast TV in the fall of 2020, and at the mid-year point, Crave's original hit – Canada's Drag Race, – was available in more than 160 countries around the world on a variety of TV and streaming platforms.
Canada's French-language production community also benefits as a result of Bell's 2020 launch of Noovo, our first French‑language conventional TV network in Québec, and the noovo.ca digital platform. Noovo Info, a 360‑degree, multi‑platform news source is now available on television, radio and the web, adding greater editorial diversity and new viewpoints. Combined with the 2020 launch of French-language content for all Canadians on our Crave streaming service and ongoing focus on producing content for specialty channels RDS, Canal Vie, Canal D, Z and VRAK, Bell Media is delivering more choice and competition in the Québec market and driving increased demand for the production of new French‑language content.
Further supporting Canada's production industry, in 2020 Bell Media began a major expansion of Pinewood Toronto Studios that will result in new soundstages and offices being added to what is already Canada's best-in-class film and television facility. We also entered into a new partnership with Montréal-based Grandé Studios, a leading provider of studio facilities, camera and lighting equipment for the local and international TV and film production industry.
Our investments in sports broadcasting rights, including the National Hockey League, National Football League, National Basketball Association, Canadian Football League, Major League Soccer, Formula 1, International Ice Hockey Federation and more, continue to support sports franchises that are important contributors to our communities, both socially and economically.
As one of the largest supporters of Canadian television and film through development and production funding, and as an avenue to showcase homegrown talent, Bell Media's support serves to enhance the Canadian industry and provides opportunities for Canadian talent to achieve both artistic and commercial success.
Bell Media took important steps forward in 2020 to support a more diverse and representative industry, working with BIPOC TV & FILM to create HireBIPOC, an online database designed to increase hiring of Black, Indigenous and People of Colour, while also partnering with the Reelworld Screen Institute on a new program aimed at identifying and nurturing emerging Canadian producers who are BIPOC. Additionally, CTV News is a founding partner of the Canadian Journalism Foundation's Black Journalism Fellowship Program, enabling candidates to spend six months at one of CTV's newsrooms.
For more about the compelling content Bell Media is helping create, see the Customers section. See also more information on Media ethics program – approach and management in the Key documents section.